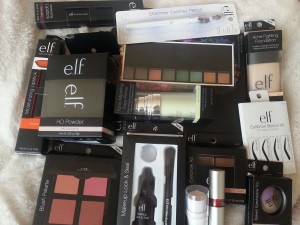 During looking for affordable makeup products, I have found ELF. I asked my husband to buy those (on the pic) for me. I could do it by me self, but I prefer to receive them from his as gilfs :).
Why do I decide to go with E.L.F? You will find my reason after reading some comments below:
Kylar : They aren't as good quality as MAC or Covergirl or namebrand make-up. But
they are worth the money you pay for them.

Mary: They have great prices and work just as good as Mac, I use their eyeliner and it stays on all day.
alternative addict: It's a hit or miss with this brand and nothing has 'holy grail' status in my opinion, but I think they're great for staple items.
From the studio line, my favorites are…
brushes, blushes, powders, settting spray, eyeliner