We moved to this area when I was pregnant for six months with our first. We moved to this area because it is close to my husband's parents. We bought this house because it is big enough for a young  family like ours.
I used to complain about the size of the house. I wanted to have more space, bigger rooms, a larger garden and especially no neighbors around. These things were always on my mind, even more since the second
child came.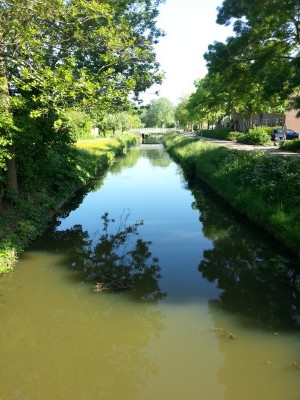 This afternoon, during taking a little walk with my kids, I saw a toad. My daughters suggested me to take him to the canal which lies behind our house (I am happy that was not a frog. Then I'd have to kiss it. I  already made that mistake before).  We walked to the bank (me and my daughters, not me and the toad), I put the toad under a brush. It hopped away.  My kids were standing there between the wild yellow buttercups growing along the bank, in the spring.  What a beautiful sight! I stood up and looked around. It was there all along for me to see, but I did not spot it for years.  I felt the loss of all the moments I missed in my life.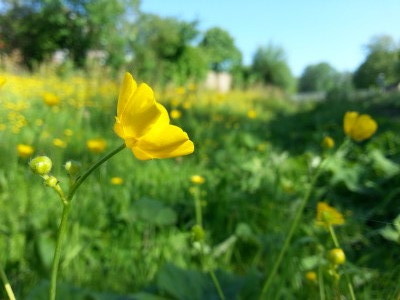 My house is just a twenty minutes travel by bike to the town center or train station. It takes me five minutes to go to the nearest supermarket. There are many children playing around.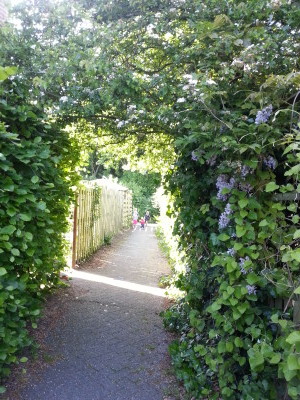 I feel as if we are living on a small peninsula, surrounded by plants and trees. There is a small hill in front and a quiet canal behind our house.  A small forest is just out of our view.

My children have neighbor friends. When the spring comes, children go out walking, picnicking, biking and fishing. In the summer, they go to look for hazelnuts on the hill. They wear swimming suits to play with water in the garden. It is not lonely in the winter, because we still can see people walking up and down the street.
I stop thinking about moving to another place. My area is so beautiful. Life is always beautiful.